Dedicated to Quality
Since our inception in 1989, we have recognized that quality comes from the ongoing commitment of our skilled staff. We measure our quality based on customer satisfaction, and we are proud to say that our first customers are still our customers today. Our ongoing quality control and customer service provide early detection of issues, immediate corrective actions, and permanent resolutions.
Design to Deliver –Quality Throughout
Qu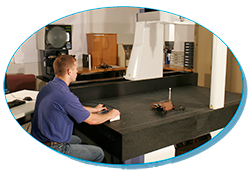 ality control measures –testing inspection, and calibration –are entrenched into every step of our manufacturing processes to guarantee the end product meets your exact specifications. Equipped with precision inspection and test equipment, our manufacturing facilities are capable of servicing a full range of dimensional and functional product specifications and requirements. Eakas' quality management systems is in compliance with the standards set by ISO/TS 16949-2009 certification.
Our wide range of testing equipment includes:
Environmental Test Chamber- enables function and performance testing throughout a temperature range of -73 C to 177 C and a humidity range of 20% to 95%.
Spectrophotometer- reads color differences of multiple angles to ensure exact color matching.
Coordinate Measuring Machine- measures parts of nearly any size, ensuring each unique customer specification is met while also reducing the measurement discrepancies often identified in manual measuring methods.
Scanning Electron Microscope (SEM)- conducts elemental analysis on surface of parts to find contamination and has the capability to measure in micrometers and nanometers.
Atomic Absorption Spectrophotometer (AA)- measures for small concentrations of metals.
STEP Testing- use a couloscope to measure thickness of chrome, copper, and nickel as well as measuring the electro potential between nickel layers.
CASS Testing- our accelerated corrosion chamber mimics extreme corrosion conditions. 48 hours in the corrosion chamber is the equivalent to 3-5 years of on the road weathering.