Supplying More Than Parts
Selling Style

Creating a customized finish is essential in today's competitive automotive marketplace. Eakas offers a variety of painting services for all types of plastics-including manual and mask painting, hanging conveyer, automated lines and specialty Hydrographics®-to meet the needs of our customers' most creative designs and tightest budgets from smallest to largest parts.

Because we start working with you during conceptual design, we help make your vision a reality. We realize painting is not a one-size-fits-all solution, which is why Eakas offers the following painting options-helping create stylized parts to enhance the design of your automobiles.
Manual & Mask Painting

Our manual and mask paint lines provide a variety of options for intricate parts requiring special finishes or multicolor applications.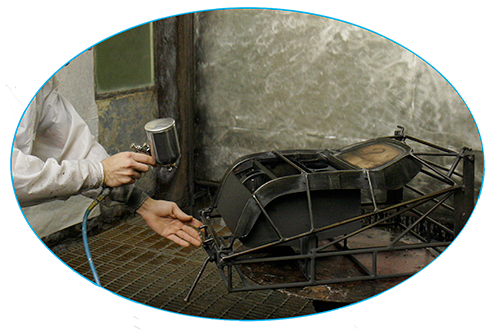 Hanging Conveyer Paint Line

The hanging conveyer paint line uses a high-output manual spray process that eliminates the need for conventional heating systems and yields a more consistent finish across all parts to accommodate automotive applications of almost any size and shape.

Large Robotic Lines

Our automated line for large parts (e.g., bumpers and grilles) incorporates a multitude of applications including prime, base, and clear coats for a truly integrated paint solution for your molded automotive products.

Compact Robotic Lines
Eakas offers a superior, compact, totally enclosed robotic line that features high percentage first time yields, quick color-change technologies, and reduced paint consumption to maximize manufacturing output as a cost savings for our customers.